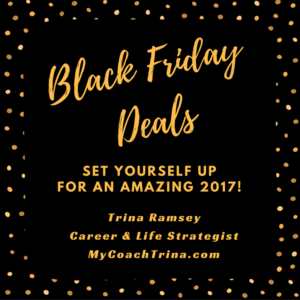 Just for this season, I am offering super low prices on my services. Grab them while you can! 
Designing the Life You Deserve eBooks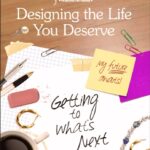 This set of resources will open your heart and mind to explore new opportunities and help you get out of autopilot.  Learn more here
Buy 1 Get 1 Free. $17
Buy Getting To What's Next and get Dreams vs. Barriers Free!
---
Career Jumpstart
If you are thinking about doing something new, or your job search has stalled, I can help! Purchase your session and I throw in a resume update for free. Limited # of slots
One 45 min session plus resume $99  Buy Now!
---
UnResolutions Club Bundle
This is Trina's signature New Year program – which focusses on RESULTS instead of RESOLUTIONS. Choose 1-3 specific goals to accomplish in 2017, and we will focus on making it happen! Year 3 kicks off the first week of January. Standard price is $49/month for one group call per month, plus 3 individual sessions throughout the course of the year.
Enroll now for the first quarter and save 33%.
Sign up by Dec 31 and save! $97
Pre-pay 3 months for $97 (normally 49 per month)
free gift 2 ebooks from Designing the Life You Deserve
---
UnResolutions Club: Bring a Friend for Free!
Everything's better with friends! Sign up now and you get 2 for 1 enrollment for the entire year!
(2 for 1 enrollment)  First month $49. Keep the 2 for 1 deal for as long as you want!