STOP THE MADNESS!!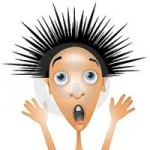 HAPPY NEW YEAR!! Are you excited about 2016? I am… mostly. I have a confession to make. Some of you who know me pretty well can attest to the fact that I'm a bit of an achievement addict. So a coach I found myself getting too carried away with myself with all the "New Year" buzz. You see – this is PRIME TIME for us – we all want to be sure to be top of mind as people are working on their goals and dreams for 2016. I'm sure you've seen many of us coaches, business mentors and other "encouragers" bombarding you with emails and social media in recent weeks.
I had created a new program and was determined to have it work out. I was focused on the money – a bit too much. And I was putting a lot of pressure on myself. So yesterday (New Year's Eve) I decided to STOP THE MADNESS and allow myself to enjoy the festivities.
MAKE IT HAPPEN, BUT REMEMBER TO BE GOOD TO YOURSELF IN THE PROCESS…
Here's my message to you, particularly this New Year Day. Because I know there are plenty of other A- types in my circle… lol – YOU KNOW WHO YOU ARE!
While you are striving to achieve your goals, remember that if it starts to become stressful or too urgent, that's not a good thing. One of my words for this year is "EASE". I decided that I need to shift my energy a bit and stop pressing so hard. I decided that it's time to enjoy life more and take better care of myself. I love coaching, speaking, and encouraging others. I am absolutely convinced that is why God placed me here, and as a result I am so very passionate and driven. But the last couple months, throw in a couple of personal challenges, and I was running myself ragged. And that's no good –even for something you care about.
I know you've got some big plans and goals for 2016 – I'm excited for you! While you are out there making it happen, today I invite you to join me in reassessing things and be sure to take good care of yourself along the way. I'm hosting
a special call – Monday Jan 4 @ 9pm EST. To join and get the details click here and I will email them to you http://bit.ly/2016JanCall
In the meantime, here's to a happy, healthy and prosperous
2016!!!
Much love!
Trina Ramsey
Career
& Life Stategist
MyCoachTrina.com
Connect with me!
On Twitter and Periscope: @PerspectivePlus
On Facebook
: https://www.facebook.com/PerspectivesPlus
Questions, comments or other feedback?  Please post a comment or email me directly
at trina@mycoachtrina.com